This is a song that mom sang with her sister Ethel (Mrs. Ralph Pauley) November 16,1932. Mom would have been 14 and Ethel 26.

I found the original sheet music, which was published in 1931, then I sang and recorded the song. The music below is the same edition mom would have used.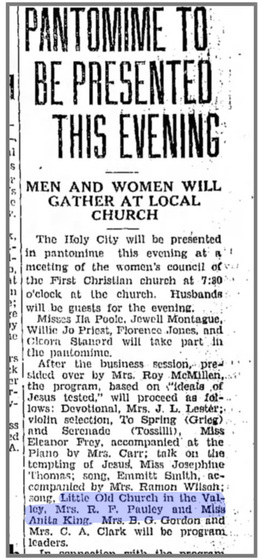 My mem'ry has painted a picture for me
In colors of silver and blue
And framed in the gold of the dear Used To Be
I see the old church that I knew

In the little old church in the valley
Where I first learned of sorrow and joy
I can see mother there with her head bowed in prayer
As she prays for her wandering boy

It was there that I first found my Sally
Like an angel on earth so it seems
When she sang sweet and low in the long, long ago
In the little old church of my dreams.